It's taken me some time to even write about this because I am still partially at least stunned and in disbelief.
I have been working on getting a Jeep since I was about 14 years old. People would ask things like "if you won the lottery what would you buy?" and my response was always "take care of my people and a Jeep!". Even when the kids would say "Dad, what do you want for your birthday?" the answer was always a Jeep.
Then a couple of weeks ago I was leaving hockey late at night and Sweet Len was piling his goalie equipment into his convertible Porsche. His pads in the passenger seat and bag in the mini trunk. At that moment I thought to myself, good for Len. Probably not the most sensible ride for a goalie but how many times in your life are you going to buy a Porsche? What if all we ever did was just what made sense?
The next day I went to my financial advisor and asked him to talk me out of it. Instead he asked me if I wanted to spend the next 4 years and $22,000 plus repairs into the car I am driving now that already had over $100,000km on it? With a trade in I added my payments would be likely close to what they are now!
The next step was to talk to Shan. It took some time and in the end, she came on board with some pretty significant bottom lines. I started talking to dealerships to see what I could get for my car and found I could get a decent trade value despite the mileage.
That next week I had found a 2018 Jeep Sahara at a dealership called We Sell Autos (they are crooks and I won't even link to them) and after some back and forth they came back with a number we good with. It was the day of my birthday and I talked to Shan about getting in there to talk to the guy and she kept making excuses to wait. "Let's sleep on it one more night…" and I gave her some sass about dragging this out. What I didn't know was that Paul was coming in for my birthday!
It was the perfect visit and the timing could not have been better. I have been struggling a little and really needed that time with Paul. He brings me back to a simpler time. Shan arranged for Paul, and I to go to Thermea on Friday to spend the day. She even arranged for me to be off work and Al caught up to us when he was off. It was perfect.
Friday morning though we had made arrangements with We Sell Autos (crooks) to talk more and even sign off on a Jeep. Well somehow the payment that we had agreed on over the phone was up an extra $50/bi-weekly and the term had gone up by a year. I was devasted, Shan was just pissed off.
On the way home, we stopped at Murray Jeep Winnipeg on Pembina, close to confusion corner. I went in pretty hot after the experience we just had and the staff worked hard to help me out. We talked about buying new and hitting our bottom line because of the lower interest rate. I never intended to buy new but they found my Jeep in Morden.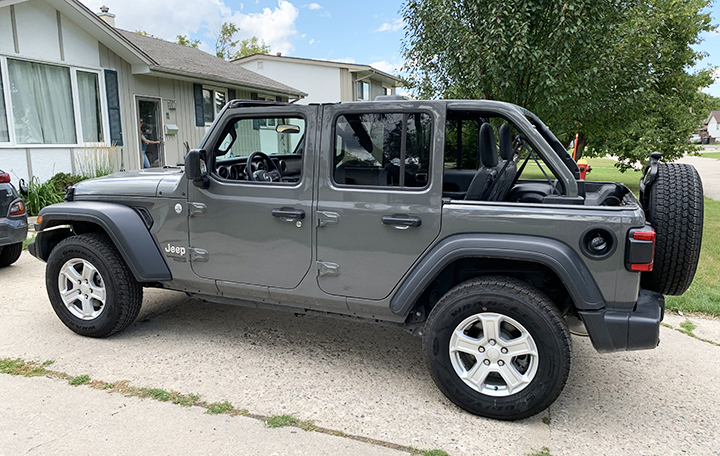 A 2019 Jeep Wrangler Sport with 600km on it. The next day we drove to Morden and picked it up. I couldn't get out of there fast enough that I even turned down the free gas!
I love it.
Who knows what the world will be like in 4 years. I am going to enjoy this now with my family. It's time!
Technically I got a Jeep for my birthday…
– Brad Pitt –