Man where did that long weekend go? I had a really short week too but it flew by.
Last Sunday when I got back from hockey Lexi on the couch with her leg elevated so I knew something was up. I didn't have to get much closer to see one of her toes veering off to her right. It was clearly broken. It happened on my parents watch too and I felt so bad for them because that stuff is going to happen no matter what but they felt so bad about it. Apparently Lexi was goofing off on my exercise ball and went feet over tea kettle and smashed her foot on the TV stand. This was after being told several times not to touch that ball. Karma has no age limit obviously.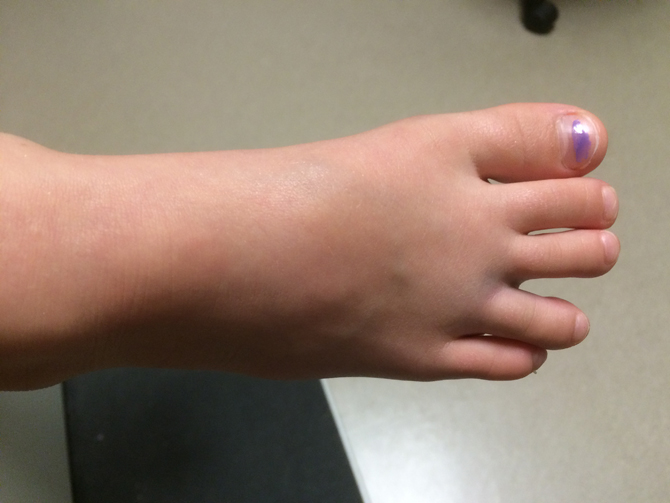 So I took her to the walk-in Monday morning and after some x-rays (and a second opinion) they sent us to Pan-Am to see a "specialist". They suggested Children's but I don't want to sit in emergency with that respiratory thing going around. Just my luck we would be sitting in there waiting to have a toe looked at and we pick up something worse. We chose Pan-Am and it wasn't too bad. Lexi would not give up the toe for freezing so with my help and one other nurse the doctor chose to "set it" without. I will never forget the sound of that scream but it was over quick and I was so proud at that moment. She calmed right down and walked out of that place on her own. It was awesome. We went to visit Nolan at work (where she always gets spoiled) and then out for a nice lunch. I would have done anything for her that day and it was nice to just have some Lexi time. That happened on Monday and Tuesday when I came to pick her up at daycare she was wearing her boot and running around the gym like a nut.
Saturday night was Vanessa's social so we were out for a late on. I think we got home close to 2am and I was up with the kids around 7:30am. I didn't drink a thing (thank God) but I am still feeling the affects. Just can't do that anymore. The social was good and being at the TYC (Tijuana Yacht Club) brought back some doozie memories. Like the night Mike's sister seduced me on the dance floor there. Good times. If that wasn't nostalgic enough I ran into Juan Portilo there who I haven't seen since the "Boogie Nights" era. He still has the moves he's just a little more reluctant to let them out. Joel met me there and we mostly watched the Jets get spanked by the Sharks and a couple of girls spanking each other on the dance floor. It was a great night and I think Vanessa and Tristan did good on the night. I know they got my PS4 money.
Sunday night we went to JD and Linda's for an impromptu Thanksgiving Dinner. I met Shan and the girls after hockey and then Mike, Tara, and the kids arrived shortly after. It was a nice visit and I was very thankful for getting in a turkey dinner Gladys would have been proud of…ketchup and all. What I really wanted was a hot turkey sandwich but figured I should class it up some.
Today we tested Ashlyn again at the movies. We went to see "BoxTrolls" and I was surprised at how well she did considering it wasn't a great movie for her age. It was a bit dark. She said she liked it but I think she feels compliant because I gave her such a hard time the last time we went to the movies and she was intolerable. She fell asleep near the end of the movie and I can't say I blame her. Overall she was awesome.