This picture was taken on my 40th birthday.
I should really remember more about this night because it wasn't that long ago…was it? I know that Shan went hard to the paint planning this celebration. It was themed to be all of my favourite things and people all wrapped into one amazing night. Shan made cookies, there was a nacho bar, and everyone who showed up brought Jager or a gift card for Five Guys! It was heaven.
I remember at one point Gould and Shan did some kind of 80's themed karaoke. I will have to search for that photo of them all dressed up and delivering the Bon Jovi! Joel and I did Humpty Dance on camera too and I remember talking to Evelina about it the next week at work! She was telling me how much she loved my friends.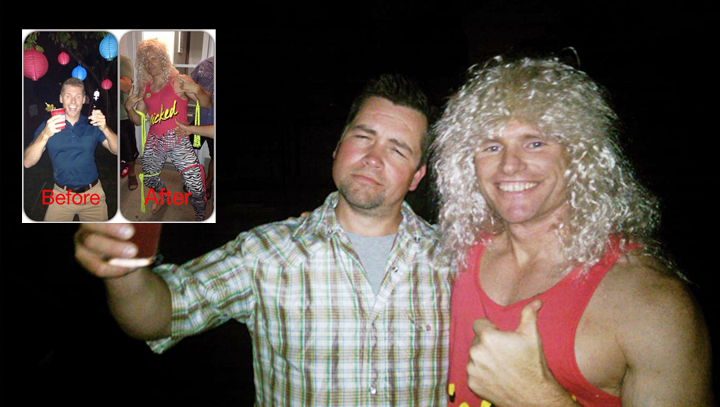 Ratte came in for it and him, Al, and I went out looking for "snaps". The day of any big night it wasn't uncommon for us to go to Value Village and scour the racks for snaps (shirts with snap buttons). Drinking shirts basically. As you can tell by the photo on this particular day we were hugely successful. Ratte also spent like $80 on groceries to build Caesars that night. I remember they had veggies and wings hanging off them!
At the end of the night, close to when this picture was taken there was just a few of us left. Shan had taken the kids to her mom's so it was just me and few guys. I remember she had made this Batman themed birthday cake that we devoured at 2am with our bare hands like animals.
Ah, to be 40 again.