Girls have been busy this week with camp in the mornings at Island Lakes School. It is the first time we have put Ashlyn into something like this but she always came with me to pick up Lexi last year and always wanted to stay so we thought we would give it a try. She did pretty good. I don't think she said much but she follows directions well and it gave Lexi a chance to earn her big sister stripes. I would hang around in the mornings just until things got rolling and as soon as I told Ashlyn I was leaving she would go right to Lex and grab on. Lexi took good care of her I could tell.
Thursday we picked the girls up early at camp and went to meet up with the Argathal Barthels in Portage. We all picked up a Groupon to the Splash Island Water park. I heard some people talking about this place being some new attraction for the kids and I wanted to check it out. It was just OK for me dog. It's an old outdoor pool with a couple bigger slides and a kiddie pool. No way I would make that drive and pay the $25 for a family. Get way more bang for your buck at Kildonan Park.
That being said we had a blast there with the Barthel's. And you know what is good about that drive to Portage? Passing Nick's Inn on the way there and stopping on the way back for burgers and Greek poutine. Not my favorite burger place but high on the list. The milkshake made the right way brought it right up there. Super fun day.
On the Friday afternoon after camp we took the girls out for Ashlyn's first bus ride. Seemed like she really enjoyed being on the bus. Honestly it would have been cheaper to take the car but the girls had fun. It was $5.10 each way and all I had was paper money. The first guy just told me to put it in the ticket taker. It's all digital now and I had no idea where to put the money! The Second driver was pissy and stopped me when I tried to do what the first guy said. "COINS ONLY" he said. Nothing much has changed in the hiring department since I was there I guess. Communication was tip top.
Today we started the day at Cole's birthday down the street. He had the coolest Star-Wars cake ever. It's so nice to have good friends on the street and the girls had so much fun playing there. Cole will also be in Lexi's kinder class next year so it's nice to see some kids from our neighborhood are going to the same school. It should make things easier for her.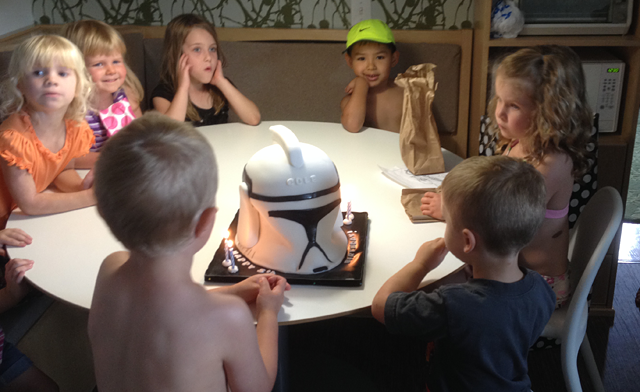 From there we went Mike's place for his 40th. As always Tara went all out with the signs, the food, the cake, and just for Mike…the candy bar! It was a great spread and as always it was nice to see everyone. The girls played non-stop with everyone's kids. It was super nice to have all the families out all in one place. Happy 40th buddy, hope you had a memorable night.