Heaven is a better place today and it seems like I have been saying that a lot lately. More and more peever.org is quickly becoming my personal obituary. Maybe more of a place to remember people in my life that will always be missed.
I hardly even remember the year I met Walter Gretzky (pre kids). We were planning a trip to visit our good friends Mel and Jeff in Wellesley for New Years and Jeff promised to take me to see the house where Gretzky grew up.
I remember being really nervous for some reason too. When we first arrived Jeff pulled up to the house and parked out front and we all just stared out the window of the car. Jeff was egging me to get out so that I could get my picture taken in the front driveway. There was some hesitation but I finally got out and I think I was taking one of Shan when Walter stepped out on the front steps and politely asked "Hey whatcha doing?"
Of course, we didn't know what to say and asked his permission to take a couple of photos in front of the house. It wasn't cell phone days so we had the old school cameras and Jeff's was as big as Walter's mailbox. He must have thought we were the press!
Next thing we know Walter invites us into the house "for a visit". It's all a blur after that but I do recall sitting in the living room "visiting" and I tried to tell Walter the story of when I met Wayne in Toronto, in his restaurant and Walter wasn't having any of it. "Wayne who?" he said. Then he told us all about his golf game the other day and this one drive that went for days.
He showed us around the house a little bit and introduced us to Glen who I think may have been just visiting. Glen wasn't very happy to see us and said something like "…he does this all the time…just don't take anything" – which is funny because Jeff and I were both eyeballing the TV guide with the Gretzky address sticker on the cover. WHAT? They were just going to throw it out anyway!
We thanked Walter for having us and insisted that we should be on our way and not take up any more of his time. Before we left he insisted that we get some photos around his Christmas tree with Santa. He orchestrated the shots for all of telling us where to stand and seemingly enjoying the whole experience. Then he suggested we finish up the pictures we started outside and posed for a couple out there.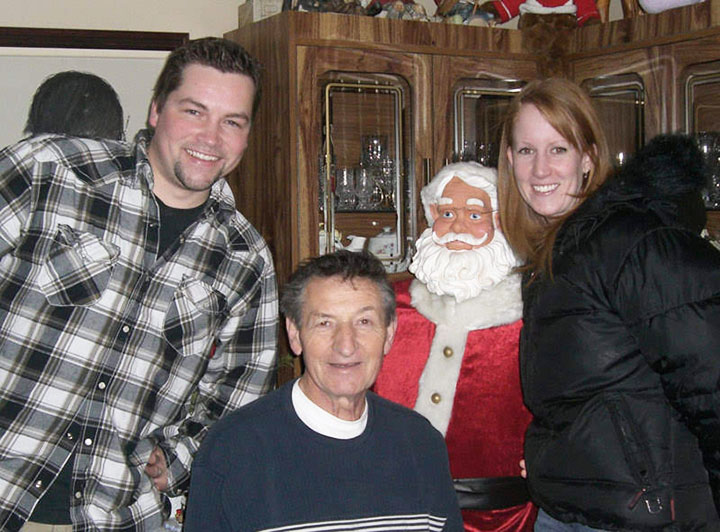 Sidenote: Since that day I have heard all kinds of stories like this so I know I am not special. But Walter is. To say he was GREAT is an understatement.
Thanks for the memories Walter.