It seems each summer Shan and I decide that we need to get at least ONE house project done on our summer budget. This year it was the back step and slanting sidewalk.
Destruction of the existing back step was our first concern. I took a few whacks with a sledge and broke the hammer so Shan said I should go and rent a jackhammer. I was still determined at this point to get this done frugally so I borrowed a hammer from a neighbor and channeled all that doubt into rage and this was the result.
Post project we always go back and forth about how to attack these things. Not being "very handy" there are some things out of my comfort zone and in this case it was drilling into the foundation. I wanted to put a header on the house to attach the frame so Shan's dad offered to help with that. I also talked to my other neighbour who suggested I bring the step out another block so that you don't have to step off the step to open the door like you had to before. Brilliant if you ask me. So we increased the size of our header to accommodate that and JD guided me with where to put the lag bolts and how the frame would come together and attach. Big thanks JD for all the help with that.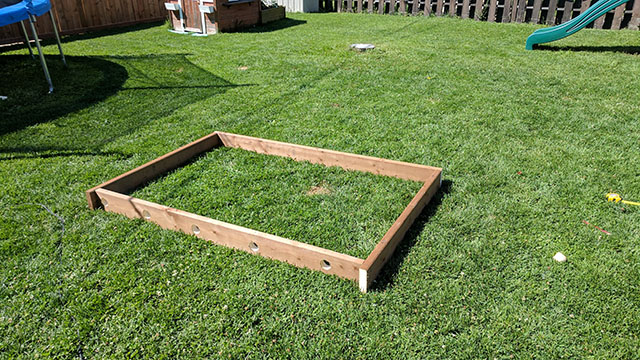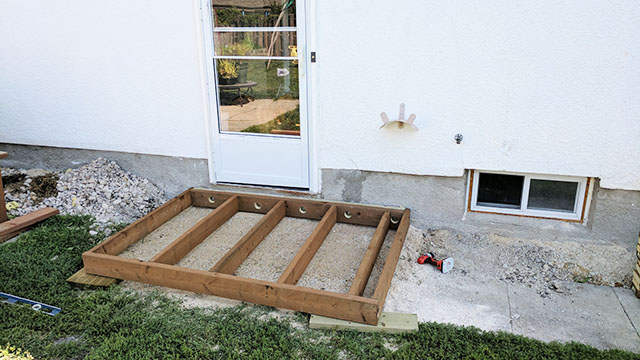 Notice those big holes in the frame so that it can be flush with the house and the lag bolts can come through? Well drilling those is not fun unless you have a really good drill. I found that out the hard way! Shan helped me put together the frame and I think we did a super good job. Once that was done I attached it to the house and built the legs to level it out and keep it steady. We ordered a yard of 1/4 down to fill the frame and planned on using the rest for the sidewalk. Shan thought a yard was too much but it turns out it's not.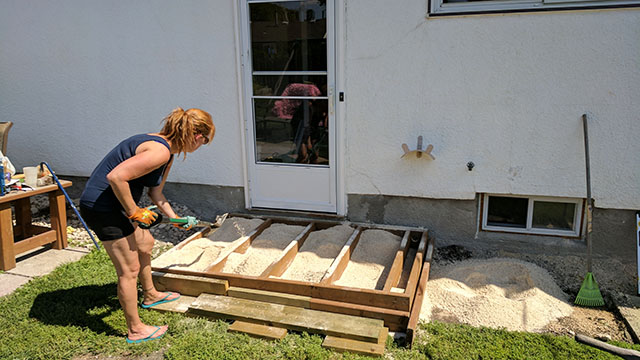 Honestly at this point in the day I was done after hauling in all the 1/4 down. I figured I could finish the rest tomorrow and that is when Nolan appeared out of nowhere! He came equipped with work gloves and shovel in hand. With his help we were able to lift and level the remaining sidewalk that was slanting toward the house. That was our initial job for the summer before it grew into a new back step. Nolan really pushed me to get it done that day and in the end there is no way I could have done that without him. Also, the next time I need that done I will hire someone. I think it turned out awesome but someone who knows how to do it properly could get it done with a lot less swearing. It also didn't help that the kids were water bombing us while we were working but it made it fun! HUGE thanks to Nolan for being the kind of friend who just shows up at your house when you are doing this kind of thing.
Here is the end result…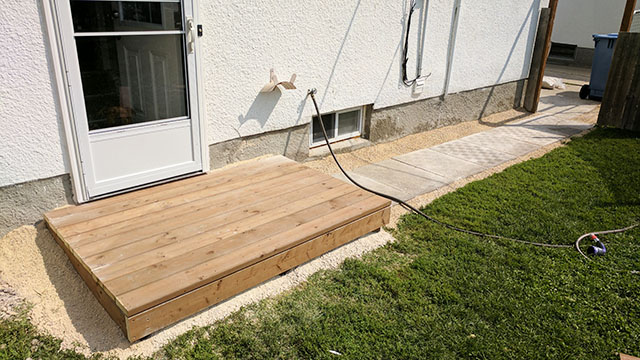 Kinda makes me want to do a front step next year!