I can't believe that the summer is over. I am going to do my best here to recap but we did a lot and I am going to miss some of the finer details forsure.
First of all CONGRATULATIONS to my parent's who celebrated their 50 year anniversary back in July. A huge milestone for any one. Especially these days.
Then came the "TORNADOES RULE" U9 Soccer Girls Windup. It was an absolute pleasure to coach this group of girls last year. They taught me a lot.
Next we were off to Blue Lake Ontario. Little did we know that this would be the last big trip in our "NEW" trailer. Thing was just too big to move around. I know there are manly men out there with pick-ups who probably love that sort of thing but it was a constant pain in the ass for me.
The end of the trailer started for me when it cost me a tank of gas to get to kenora. It was my plan on this trip to stop at Redden's for gas just like have so many times before with this rig (1). Only when we arrived there, nearly on empty, Redden's gas station was no longer there. All that was left were the charred remains so we had to turn back toward Kenora for gas. Re-arriving in town we soon realized we weren't the only ones looking for gas in Kenora and I had to maneuver the trailer through a maze of cars in the gas station parking lot until a lane finally opened right in front of the building itself. It was a tight fit and upon getting out I realized that the outside of the trailer tires were rubbing on the curb surrounding the pump. That explains the noise I heard pulling in. Regardless I filled up and Shan and I agreed I would have to back up to avoid possibly popping the trailer tires. She guided me from outside and after several moves I was able to barely squeeze through just narily missing the Coke machine and avoiding the jackass who parked in front of the propane tank just to make my life more difficult. The same guy who clapped for me once I was finally clear. It was then as we drove off to Blue Lake for what would be our last time in the trailer, I said to Shan "I think we need to sell this sucker.".
All that aside, and another couple of maneuvering difficulties, Blue Lake never disappoints. Especially with the Ratte's and Morrison's there. It's one of our once a year places for sure.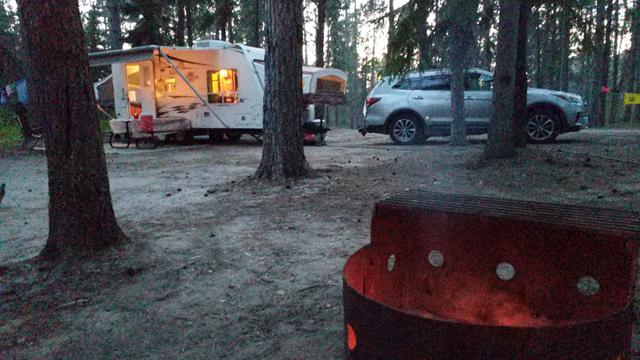 Then it was off to Calgary to visit the Dicketts. The girls miss Sydney and Riley all year long and could hardly wait to see them. This time we decided to stop in Swift Current for a nigtht to break up the trip and I have to plug "Uncle Bob's Diner". It's a great little family restaurant in Swift Current where the food is as fine as the service. In fact Uncle Bob himself took care of us personally.
We also made a detour to Drumheller on the way to Calgary. We climbed the Hoodoos and walked the suspension bridge before hitting up the museum itself. It was about $50 to walk through the museum and the girls were done within about 15 mins. It's worth checking out but if you have kids that aren't really interested in dinosaurs be prepared to miss out. There is a lot of interesting reading to do there but it's also easy to lose the kids when your distracted. I would suggest doing the outside stuff and visiting the big Dino Store you pass on the way in. Save you some cash.
We hit another really cool restaurant in Drumheller called "Bernie & The Boys" where they have over 50 flavours of milkshakes and they were worth the trip. I had pistachio, Shannon had Chai, Lexi had pineapple, and Ash had blue Raspberry. The food was just ok for me.
After a dusty and exhausting day we drove the last couple of hours to Calgary. A place I can only describe as a living and breathing city. Where the Bow River flows through the city like a breath of fresh air. This time we got to experience Calaway Park where the girls got to experience their first really good roller coaster. We returned to Olympic Park to do the Luge. Bruce and Tonya had us over for a BBQ so it was nice to see them while we were in town. We don't get to see them enough. We stuffed a lot into the first couple of days and then we were off to Edmonton for some more fun and family.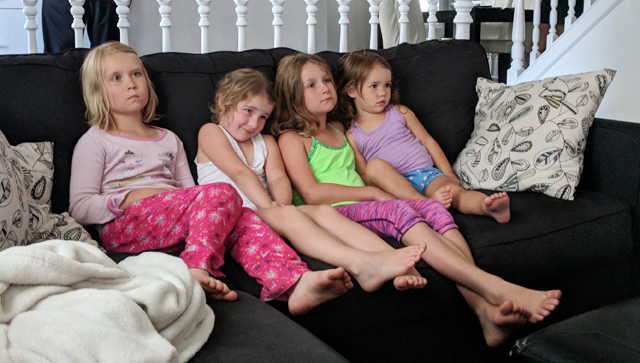 This time we booked a hotel right across from the mall. The kids had some money to spend so we took care of some shopping almost immediately before going to my Auntie Lorie's for dinner. Crystal and Damian were staying there with the kids as well so it was nice to have everyone together. Nostalgia was in the air and being there reminded me so much of the old Sunday dinners at Granny Peever's house. The TV tables and the kids around the TV eating supper. Except we were watching "American Ninja Warrior" instead of "Walt Disney".
The next day we made a plan to all meet up at the Water Park in West Ed. That's how cool people refer to the mall. I was really excited for the kids because I think the last time we were there Lexi was 4 and Ashlyn was just a baby. I was also very impressed that auntie Lorie made it out to the slides as well. The wave pool was a highlight until someone's head smashed me in the side of my face. I honestly wonder how many concussions happen there each year. If it had been Ashlyn or Lexi we would have been hospital bound for sure. I was also impressed that the girls braved the zip line while we were there.
By the time we left Edmonton I am sure we walked the equivalent of half way home. Regardless we decided to take a trip to Banff on the way back to Calgary so that the girls could see the mountains. Shan was quick to point out that I was 27 the first time I had seen the mountains and that this was a real treat for them. Once in town we took in the local tourist shops and farmers market that was in full effect. I even ran into an old friend from my Glenwood days who was selling her art at the market. Of course we bought a really cool print and then took her advice to visit Johnson Lake where the girls and I swam at the base of a mountain. This was by far a highlight of my trip and one day I promise to return to that spot with them and re-take this photo…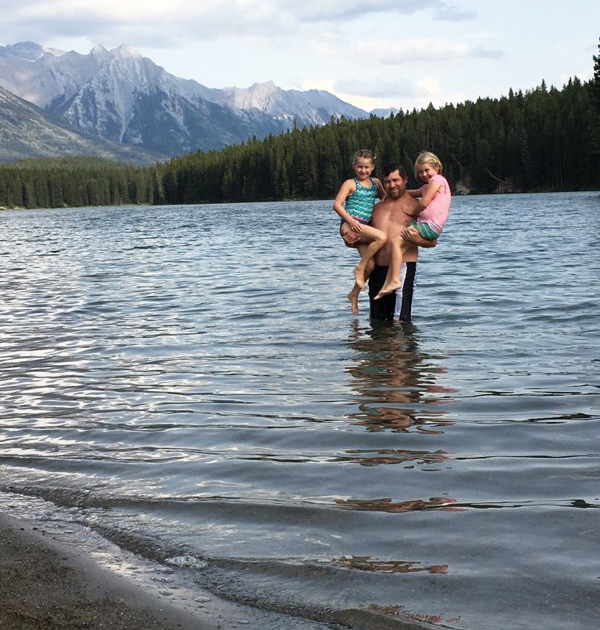 Big thanks to Tim, Les, and the kids for putting us up while in Calgary. We had an awesome visit and I still owe you guys some dip. Looking forward to seeing you in Winnipeg very soon.
We made it back home to Penny and stayed in town for a couple of days before heading out to Hecla Island for one more camping trip before Shan had to get back to the grind. Oh yeah, did I mention we sold the camper before we left to Calgary? You are as surprised as the kids were but please do not scream cry at me as it will not change my mind!.
We bought a utility trailer and Hecla would be our first time tenting as a family. Besides the night we spent in the backyard after purchasing the tent. Besides the time we tried it out in the backyard and Lexi puked all over it. Hecla was awesome and it was nice to have our bikes. I did have to drive another 3 hours to replace the pedal that fell off Ashlyn's bike on the way there but in the end it was worth it. Great campsites but the beach was pretty gross. If I am richer the next time we go I would certainly rent a couple of jet skis and get the girls out on the water a lot more.
Back home and back to reality. Shan goes back to work and the girls and I spend our days with friends at the pool or playing in the backyard keeping cool. For the last week Shan went to Toronto to see Ed Sheeran and the girls and I did a different activity every day. I love having that last week with them because I really miss them when school starts again. It's like going from having all the time in the world to having an hour at night to make sure they happy and taken care of.
Can hardly wait until next summer!