I am terrible with dates but somewhere in the early 90's Ratte and I scooped up our first pair of rollerblades. Mine had the removable chassis and weighed about 70lbs. The first summer we had them we burnt through a set of wheels cruising the streets and playing 1V1 in the picnic shelter at St.Vital Park. The water fountain was our goal.
We got word that a roller hockey league was starting up at Grant Park arena so we put our names in to see if there was a team looking for players. We ended on a team called "The Leftovers" that was made up of guys like us who wanted to play but didn't have a team. It was there we met the kid versions of JP and Timmy G.
Back then we played with a ball, and that was just fine for Ratte and me who grew up playing street hockey in old St. Vital. We ended up winning the season that year with a bunch of guys who barely knew each other and were just thrown together by the league. We knew at that time we had to get the guys together a make our own team. What we didn't know is that most of us would play together for the next 20 years!
We grew up together playing roller hockey (Three Pistols), eating wings at Manhattans, and drinking to the Tragically Hip. When we weren't playing league we were skating at "Saints" or "Wheelies" after hours. The friendships will last a lifetime.
One of my most memorable games was against the Wildcats. We had a bitter rivalry with this team and I remember it was a big game going in. It was back in the day and JD was our coach. I remember my dad was also at this game with Trish and he didn't come many so I came to play. I had an end to end goal early that started behind our net but for every goal we scored the Wildcats fired right back. It was a rough game and they had this one guy who was a cheap shot artist that was always taking liberties with our guys. We had a scoring chance in front of their net that turned into a pile of guys and I got cross-checked down from behind. On the ground I saw it was this same guy so I gave him a chop to the skates. I was in a compromising position with this guy about to come down on my when Ratte swoops in with a high cross-check to stand this guy up. It was an awesome moment for me because Ratte liked a clean game and took pride in not getting involved in those kind of shenanigans. To see him step up for me really meant something at that moment.
With about 5 mins left in the game Wildcats are up by a goal and as I am watching my pass I get run by their monster enforcer. This kid was twice my size at the time and he drove me into the floor hard enough that if it weren't for my helmet I might not be here today. All I heard was the gasp of the crowd and the first thing I thought of was that my dad was in the building so I got up right away. I had the wind knocked out of me as I skated back to the bench where JD gave me a pat on the back. They were sorting out the penalties and I think Ponch went after the guy so we got 2 and I think they got 4 which was more time than was left in the game. We were going on the powerplay down by a goal and JD looks at the bench to see who is ready to get out there. I motion that I am good to go and he gets me out there for one last shift. We win the face-off and move it around a bit in their end. The puck comes back to me at the point and I fire off a high wrist shot into the crowd in front that finds it's way off of someone or something and into the net and the game ends in a tie. There was no overtime or anything back then so it ended in a tie but it sure felt like a win to me.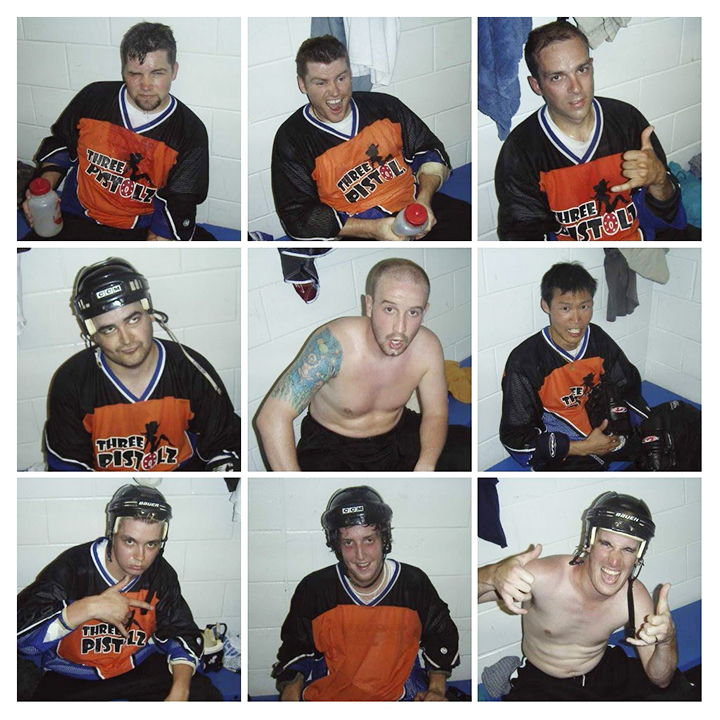 I have so many great moments playing the game but that one stands out the most. Maybe because I can still picture JD standing on the bench. Maybe it's because Trish told me after that my dad had a big smile on his face when I scored that goal at the end of the game.
I think that last season was the final chapter for the Three Pistols as far as roller hockey goes. I was out a couple of years ago but that team, that group of guys, will always feel like mine.
I think this was 2010.