I first learned about Greta Van Fleet in 2019 while listening to the Fighter & The Kid Podcast. Will Sasso came on and was talking about this Band from Michigan who sounds a heckuva lot like Led Zepplin. I don't think he was bad-mouthing them but talking more about how an artist emulates their influences. Strangely, I have never considered myself a Zepplin fan but I have come to love this band. So much in fact that they are now a staple in my car and at home. The kids love their music too so when I saw that they were coming to Winnipeg I wasted little time securing tickets.
This is also the first REAL concert that the kids have been to so I wanted it to be something they would never forget. I remember my first concert and I think I was about Lexi's age. It was the "Who Made Who" tour in 1986 at the Winnipeg Arena. I was 12 and I went with Dave Clarke and his older brother Ray. It was unbelievable. After the concert, I remember thinking that I might be deaf for the rest of my life, and at the time…I didn't even care!
When we arrived we went straight for the merch table. Lexi picked up a GVF sweater and Ashlyn picked out this cool chain that we would later see around the neck of lead vocalist Josh Kiszka. When she first saw him on the big screen next to our seats wearing the chain her eyes got all big and she pointed it out to me. It was a really cool find for her and "the most expensive piece of jewelry in her collection"!
We made it to our seats in time for "The Pretty Reckless" who we knew very little about. We found out quickly that Taylor Momsen the lead singer rocks it out pretty hard and has a dirty mouth. The girls liked it and they are actually getting some air time at our place now. It was Ashlyn who pointed out after the show that GVF was all about love and peace and it was funny that their opener dropped a bunch of F-Bombs and hated on men!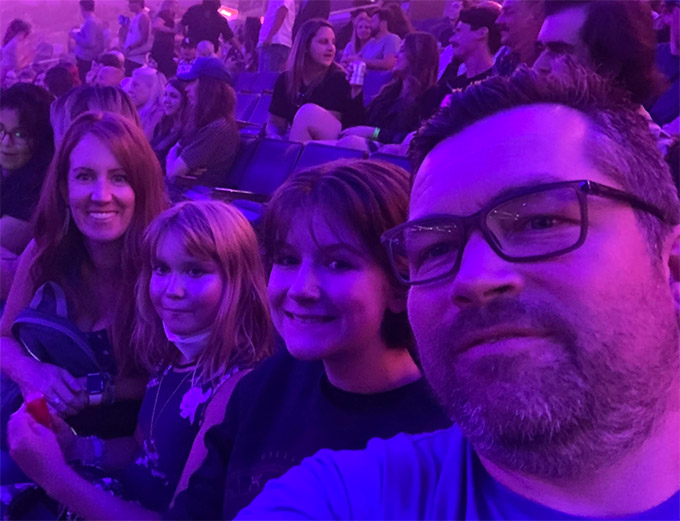 GVF was amazing from start to finish. It had great energy, there was pyro, and the band really left it all out on stage. I mean there was 10 min drum solo to end the 2nd song. I have no idea how the drummer finished the show, to be honest. If there was one thing I would have changed it might have been less riffing and more songs. Regardless, the vocals were amazing and when I describe this band I am always telling people that the lead vocals are like another instrument the way he riffs with the band throwing in little quips and yells. It was amazing to see up close and I can't not see it when I am listening to their music now.
Shout out to Gary and Gavin who helped me get some tickets in advance. Couldn't have asked for a better show.